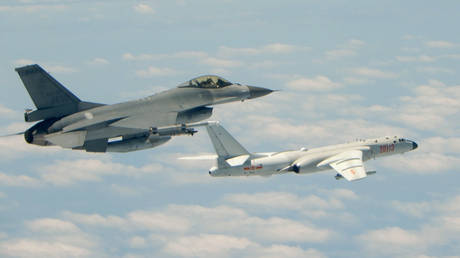 Defense officials in Taiwan have accused China of launching a massive military fly-by through its airspace, including using nuclear-capable bombers. Beijing has not confirmed the allegation.
In a statement, the Taiwanese Ministry of Defense said Friday that it had warned the squadron of 20 aircraft by radio and deployed its missile systems to "monitor the activity." The ministry also released maps that it claimed showed the route the aircraft took through the Bashi Channel between Taiwan and the Philippines towards the Chinese mainland.
Four nuclear-capable H-6K bombers, 10 J-16 fighter jets and two Y-8 anti-submarine warfare planes were among the airplanes involved in the mission, according to Taipei.
China, which claims Taiwan as its own territory, has not yet responded to the allegations.


Also on rt.com
Taiwan says it's now making long-range missile capable of striking China



Just a day earlier, Taiwanese Defense Minister Chiu Kuo-cheng had said the country was developing long-range missiles capable of striking targets on the Chinese mainland.
Tensions between the two have ramped up in recent weeks, fueled by the ongoing involvement of the US in the region.
Earlier on Friday, Washington and Taipei signed a memorandum of understanding to set up a so-called coastguard working group, as US President Joe Biden's team attempts to increase America's influence in the disputed South China Sea. The group in question will be tasked with sharing information and enhancing cooperation.


Also on rt.com
Biden says he's 'not looking for confrontation' with China, despite 'stiff competition' & issues with Taiwan and South China Sea



On Thursday, in his first solo press conference, Biden pledged to make China "follow the rules" in relation to Taiwan and other issues. China has repeatedly warned the US against meddling in what it considers are the country's internal affairs.
Beijing has recently passed a law that allows its coastguard to fire on foreign vessels in certain circumstances.
Like this story? Share it with a friend!